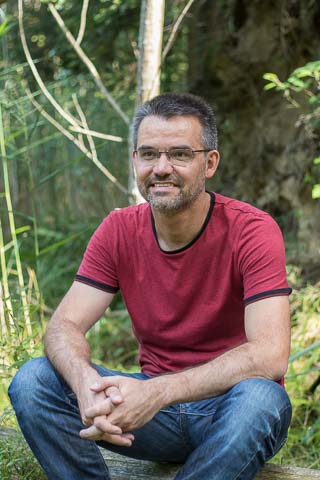 In a few words
I'm from Biel in the canton of Bern, Switzerland. I currently live in Epalinges, in the canton of Vaud. I am married and have one child.
I started photography in earnest in 2013, and this activity has quickly turned into a passion.
Passionate about nature, I practice mainly wildlife photography as well as macro.
More in detail

As a child, I dreamed to have a job related to nature and animals. I imagined already traveling the world to study and photograph the wildlife.
As a teenager, I have had my first computer. It is likely that he had a considerable influence on me, because I finally chose to study computer science, a profession that I still practice today.
Unrealized children dreams become adult frustrations
As an Adult, I have long used a compact mainly to capture vacation memories.
In 2011 my childhood dreams probably resurfaced of my subconscious as I felt the need to equip and I acquired my first SLR camera, a Canon EOS 600D kit with the EF-S IS 18-135mm f/3.5-5.6 lens. At first I used it as I was using my compact, exclusively using automatic modes (Scenery, Portrait, Macro, …).
The beginning of a passion
My wife and I have always loved mountain hikes and walks in nature, but in 2011 we began to multiply the birds observations during family walks.
The kit lens has quickly proved insufficient to photograph birds. So I acquired an EF 75-300mm f4.0-5.6 lens. It was better, but I was not really satisfied with the results. Nevertheless, it allowed me to progress and accompanied me for a while. Using this lens I started to get interested in semi-automatic modes (Aperture Priority and Shutter Priority).
As you may have already noticed, for a photographer birds are almost always too small and too far. So I quickly wanted to gain focal length. By doing some research, I came across the Canon EF 100-400mm f/4.5-5.6L IS USM (first version). I considered it the ideal lens for beginners in wildlife photography. Its maximum focal length is very interesting for bird photos and the magnitude of its zoom makes it very versatile.
My wife, being aware of my purchase desire, informed the whole family who made me a wonderful surprise by offering me the object of my dreams for my 40 years, in February, 2014.
The revelation
The beginnings with the 100-400mm were for me a revelation. That's what I like, walking outdoors, away from the bustle of cities, on the lookout for any movement – as stealth as it is – with the secret hope to be able to can make the portrait of a black woodpecker, a lynx or a beaver.